London based, Portuguese owned label Cubiculo Records, who put out the self-produced Ganjaman EP with Dub Unit and Speng Bond in February, are back with their first 7" release.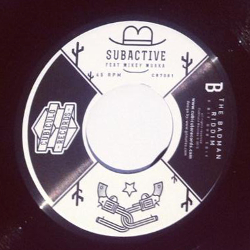 The Badman Riddim is another defiantly digital piece - this time created by French Sound System Subactive. The A Side Blam Blam is a retaliation sing and chant voiced by Mikey Murka - a man who was touching the mic when these kinds of sounds first broke 30 years ago. The flip is the instrumental backing given a robotic 8 Bit Dub Edit.
"After the success of the 12" Vinyl / Digital debut EP of Dub Unit featuring Speng Bond, now comes the first 7" Vinyl with this massive riddim from Subactive with the legendary Mikey Murka" says the press release.
"Founded in 2010, Subactive is a Strasbourg (France) based sound-system. Lovers of sharp skanks and fat bass lines, they produce modern-sounding riddims influenced by digital reggae of the 80s."
Cubiculo owner Duarte Lucena recognised kindred spirits in Subactive when they were one of the first people to purchase his Ganjaman EP!
Fans of Unity Sounds, and Mungos Hi-Fi take note: the Badman Riddim was released on 7" and for digital download on July 9th.