Andy Murray might be scoring loads of plaudits for Scotland on the sports front at the moment but two of that country's finest musical stalwarts have teamed up again to deliver a duo of 4 track, different, but equally bass-fuelled EP's.
The first EP sees the pair in familiar digital reggae territory as the popular Bong Bong, a track that rides on a remake of Sister Nancy's Bam Bam take centre stage as it is brought bang up to date in a smoky fashion. The second track on the A-side 31st Century Song shows off Soom T's singing abilities on a lopping along riddim.
The flip side features 2 tracks that first appeared on the Jahtari produced Ode To A Carrot but are taken from a much earlier recording session and have a different edge.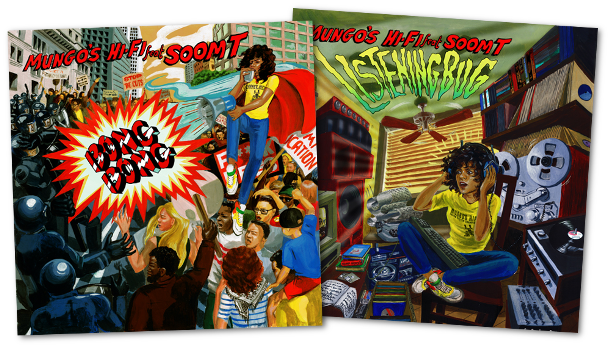 The second EP titled the Listening Bug EP is more electronica than reggae and so may not appeal to all. For those of you however that are partial to heavy bass excursions this EP is a LFO bass driven flurry with minimal meandering melodies. There are touches of eastern mystique on Jump Up Quickly, while War Song has a mean and moody sound that would not be out of place as the next James bond theme tune.
Both EP's come in cartoon styled picture sleeves that owe a lot to the early '80s classics of Mad Professor and Scientist.
Both EP's are available now direct from Scotch Bonnet.