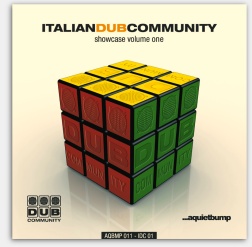 As its name suggests
Italian Dub Community Showcase Vol.1
is a new dub compilation with artists from Italian scene. Featuring 10 dub producers, this set includes 10 tracks - each of them followed by its version. This release is free available and is distributed by Aquietbump (net) label under Creative Commons license .
A good compilation for fans of modern dub and also for curious, including great productions as What A Day
by Moa Anbessa, Dem Nuh Cool by Earth Ground Combination or Creation by Imperial Sound Army featuring Dan I .
Download here