It's been ten years since the Oyster Card, London's electronic ticket for public transport, was introduced to the capital. Now it's getting its own tribute in a reggae song.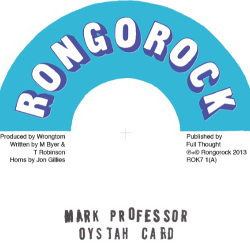 The new single from Wreck It Up Crew mc Mark Professor and producer Wrongtom eschews the use of cars in favour of the freedom and mobility of topping up the famous blue smart card device.
Professor rides a vintage sounding major key rhythm with a touch of Stalag – although according to Wrongtom that wasn't the direct inspiration.
"Mark originally voiced it on my Jump + Move + Rock rhythm. Then I rewrote it around his vocal, so I guess any likeness to anything else is more subliminal then premeditated. Productionwise I was going for somewhere between Junjo and Chris Lane."
Reggae has many odes to methods of travel – from bike (Dillinger - CB200) to train (Junior Murvin - Roots Train Number One) to foot (Freddie McGregor – Jogging) but this is surely a first. It's also the debut release on Wrongtom's new label Rongorock.
Oystah Card is out August 26th on 7" and for download. It's available for pre-order at the Rongorock shop.