Acclaimed roots veteran Luciano is set to drop a new studio album – "The Qabalah Man" – on November 29. It follows the popular "Rub-A-Dub Market" released two years ago and collects 14 tracks, of which several are combinations with performers such as Bob Andy, U Roy, Mark Wonder and Ziggi Recado.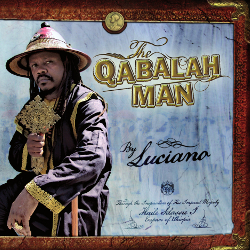 "The name Qabalah Man is a name that I have called myself as a result of my studies in philosophy. Qabalah is a derivative from the Ancient Kabbalistic Mysticism of Ancient Egypt, which believes that the discovery and mastery of the self is the ultimate goal of life," says Luciano in a press release.
Luciano has to date put out more than 40 albums for a broad variety of producers, mostly from Jamaica and Europe. "The Qabalah Man" is however mainly produced by Anthony Senior, who recently put out Junior Kelly's album "Piece of the Pie". Other producers involved include Luciano himself along with Michael Edgehill, Nasir Gowdie, Lawrence Gowdie, Cedrica ''Soljie'' Hamilton, Moritz van Korff, Benjamin Zecher and Jossi Coppola.
"Working with Luciano was great. We started in February and we had loads of fun. He is hard working, professional and easy to get along with," explains Anthony Senior in the press release.
Over the years Luciano has shared his love for Rastafari, peace, unity and love over beautiful and soulful reggae riddims. With "The Qabalah Man" Luciano aims to tell the world that this journey continues.
"We are the light of the world and even in these dark days we will continue to emanate love and light through our music. We must work together harmoniously to create a new world and set a solid foundation for this generation, whilst also preparing a brighter future for the generations coming," says Luciano, and concludes:
"I have always acknowledged music as a gift from God and so whenever I create music, I see my Creator as my guiding light and my main source of inspiration. Yes, there are topics that are more of a social commentary, but in the end the solution to all man's problem is through Jah. Therefore, it's essential to return to the Master and let him be our guiding Light," concludes Luciano.
"The Qabalah Man" hits the streets as CD and digital download.