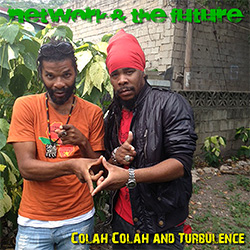 Jamaican chanter Colah Colah has teamed up with fellow chanter Turbulence for an album titled Networks and the Future. It's Colah Colah's fourth album to date following Steady Meady, Up and Running and Networks.
The idea for a combination album came after the release party for Colah Colah's third album Networks, a set that also featured Turbulence.
Networks and the Future was recorded in Jamaica with One Drop Roots Band and with back-up vocals from Buju Banton's sister Adina Myrie.
The first single off the album – The Bees – was put out earlier this year and the full album is now available on digital platforms worldwide.