Following their update of the Rumours rhythm – the Dubplate Fashion – East London label Reggae Roast are back with two new rhythms on a double A side release. Selector and Reggae Roast compadre Adam Prescott, who remixed Dubplate Fashion, is in the producer's chair.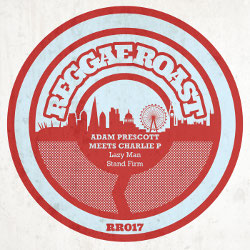 For Lazy Man he has created a metallic relick of the Bunny Lee classic My Conversation, with mc duties from Southend's child prodigy grown up Charlie P. Charlie, who first came to attention with Goldmaster Allstars then Dubateers and is working on an album for Mungo's HiFi, hails from Essex but talks in patois about the glories of doing very little except the things he loves.
On the flip is Stand Firm, an original composition in a minor key which showcases Charlie's singing abilities in an early 80s style.
Remix responsibilities come from two different headspaces from the city of Leeds. Tradesman returns the favour to Prescott for his work on Dubplate by refashioning Stand Firm. Mark Iration of Iration Steppas beefs up Lazy Man in dub.
Lazy Man and Stand Firm are out on vinyl and for download right now.