With inspiration drawn from the 'golden age' of digital Reggae and production values of the likes of King Jammy and Gussie P, rising producer Tradesman has joined forces with Reggae Roast's superb mic man Parly B to bring 'Dubplate Fashion' to the dance floor.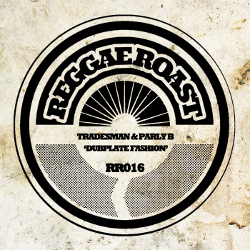 Hailing from Leeds producer Tradesman has been exposed to a hot bed of musical activity and Soundsystem culture for a number of years with his hometown playing host to Iration Steppas and the renowned Subdub dances.
This education has allowed him to create his own unmistakable sound which he has applied to this remake of the classic Rumours Riddim, originally voiced by Gregory Isaacs in the 80's and has been doing the rounds on dubplate for a number of months.
MC Parly B has made incredible in roads in the UK dub scene over the last 12 months after coming to light with his stand out release 'Competition' on Mungo's Hi Fi's Scotch Bonnet imprint. The success of this release has made him one of the most sought after talents in the UK and led him to collaborate with a diverse mix of sonically interesting producers such as Riddim Tuffa, 7FT Soundsystem, The Skints and Lionfire.
At the beginning of the year Reggae Roast promised us a host of quality releases and as we enter into the final quarter of this year it's fair to say they have delivered and with more releases in the coming months from the likes of Adam Prescott, Charlie P, Dubmatix, Vibration Lab and many more on the cards it should be an exciting run into 2014.