Former Gladiator turned Seattle-based solo artist Clinton Fearon is back with 10th album Goodness.
Following 2012's acoustic set of Gladiators songs Heart and Soul he has returned to the full electricity of 2010's Mi Deh Yah.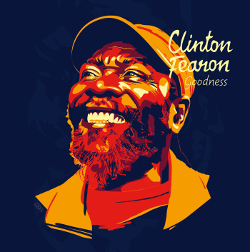 The 12 tracks were recorded with engineer Mel Dettmer at Aleph studio in Seattle. Clinton laid the bass and rhythm guitar with keyboards, drums, strings and horns supplied by his Boogie Brown Band.
Clinton told United Reggae the album is about "Good thoughts. Good intentions. Clean spirit. Good vibes towards the person beside you and your surroundings. Wish good for yourself and everyone."
"I remember when dancehall made an upswing and people said roots is dead. Some of us got downhearted, didn't want to be associated with those lyrics and stopped doing their forte. Then when roots sprang back those same artists came running re-covering old singles. But it wasn't from a creative place. They were saying "I did this song and I can get some money"."
"If I looked at it that way I would just stop doing it. I love the art and I'm always working to better it. That's the area I know best. There are some excellent artists out there and I would suggest they do what they really know. Finish what they started. Good music cannot die."
Goodness is out on March 24th distributed by Chapter Two in Europe and May 17th on Kool Yu Foot in the USA.