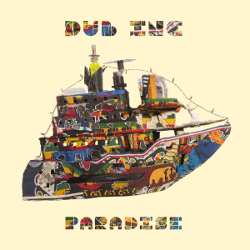 Dub Inc – one of Europe's most successful reggae bands – is back with their long-awaited fifth album Paradise, following Hors Contrôle put out in 2010. Over these three years this seven piece band from Saint Etienne, France, has toured the world – from Portugal to the U.S., from Colombia to India and from Germany to Senegal. They have also been subject for the documentary Rude Boy Story.
Paradise collects 13 tracks, of which one is a dubstrumental. It's a global album with influences from Jamaica and the Caribbean as well as from the Middle East and Balkan. Dub Inc also continues their journey to reach a broader fan base with several songs sung mostly in English rather than French.
Released in October 2013, Paradise will probably appeal to Dub Inc's many fans across the globe.