California dwelling Jamaican Bobo chanter Perfect Giddimani is about to release his eighth album Better off Dread.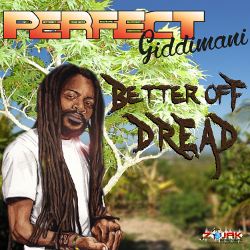 It follows last year's House of Riddim production Over The Top and features a conglomerate of different producers that reflect the restless Perfect's globetrotting travels. These include Sweden's Jonah Gold Goldheart, Philadelphia's Rumble Rock Recordz, Austria's House of Riddim, Switzerland's Weedy G Sound Force, and Jamaica's Sly & Robbie.
Unsurprisingly, Better off Dread plays up the eclectic side of Perfect: mixing roots reggae with hip hop, soul, dancehall and even heavy rock flavours.
Better off Dread is out for digital download on April 15th via Hawaii's Jah Youth Productions and Perfect's own Giddimani Records.