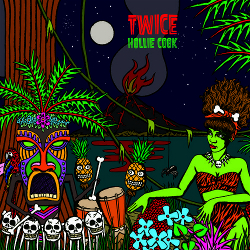 Acclaimed UK singer Hollie Cook drops her second album Twice on June 10th, it's the follow-up to her widely celebrated debut album released in 2011. Her debut album was in 2012 followed by its dub counterpart where ingenious producer and mixing engineer Prince Fatty twisted and turned the knobs.
On Twice Prince Fatty and Hollie Cook team up once again. And together they create reggae with grand strings arrangements, Brazilian percussion, dark disco and pop a 'la German/Italian super producer Giorgio Moroder. The pair has also invited Dennis Bovell, Omar, George Dekker and Winston Francis.
The album will be available in various formats including LP, a collection of 7" singles, cassette, USB stick and a number of special additions.
Listen to Twice on Soundcloud: https://soundcloud.com/mrbongo/twice.