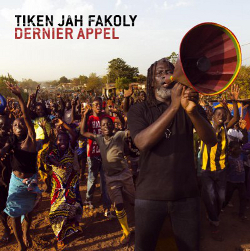 The outspoken Tiken Jah Fakoly is back on June 2 with a new album titled Dernier Appel (in English Last Call). He was born in 1968 in Côte d'Ivoire and has been the victim of censorship, persecution and exile thanks to his confrontational style forthright lyrics.
The main theme on Dernier Appel is whether Africa as a continent will take off and increase growth or if the countries will be characterized by misery, chaos and war, as shown by the recent conflicts in Mali and South Sudan.
Dernier Appel offers ballads, roots reggae and Curtis Mayfield styled soul. It was recored with his band The Djelys in Bamako and Paris with production helmed by Jonathan Quarmby, who has previously worked with Tiken Jah Fakoly on previous albums L'Africain and African Revolution, but also with Ziggy Marley, Finley Quaye and rock band Del Amitri. Guest artists include Patrice and Alpha Blondy.