Jamaican production house Notis, formerly Notice Productions, have teamed up with new wave roots artist Iba Mahr for a single. It's an old-school digital dancehall deejay throwback called Diamond Sox, named after the argyle golfing socks popular in the 1980s.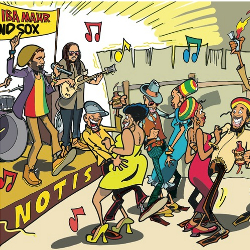 Diamond Sox was written by Iba Mahr and produced by Wayne "Unga Barunga" Thompson for Notis Records and mixed by Gregory Morris. The single comes with vintage style artwork by Jamaica Observer cartoonist Clovis Brown.
Notis have also announced their decision to tour as a band in addition to producing. Following the departure of keyboardist Lamar "Riff Raff" Brown, the drum and bass duo of "Unga Barunga" and Jason Welsh have rebranded as Notis and expanded their duties to include performing on stage.
"The structure has been transforming but we're still making good music" said Unga Barunga to United Reggae "We've always been evolving. Now we've gotten the opportunity to perform rhythms that we've produced over the years. It's something that we always wanted to do because both Jason and I have performed over the years for so many Jamaican artistes as touring musicians, on bass and drums respectively."
They debuted their new live sound at the launch of Chevaughn Clayton's EP 'Hopeless Romantic' on February 12th. "Notis isn't just a label anymore, we're also performers. It's a package. "
Notice Productions formed as the band Further Notice at Edna Manley College in 2005. Notable singles include Busy Signal's "Come Over" (Miss You), Iba Mahr's "Let Jah Lead The Way", Konshens' "To Her With Love" (They Say) and Ding Dong's "Holiday".
Diamond Sox is out now in iTunes, with accompanying video shot by Jay Will.