On the 2nd of July Scotch Bonnet Records are to drop a plethora of releases from many and varied artists.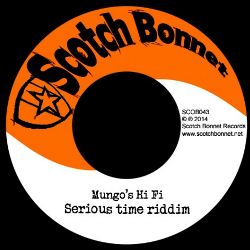 First up are two singles from Mungo's Hi Fi, to complement their soon to be released 4th album 'Serious Times'. The LP's title riddim, a classic ska tinged dancehall track, takes centre stage with vocal cuts from YT, Shanti D and Marina P, plus a clean riddim version for all you would be DJ's out there.
There is also be a further two 7's from Roots Survial's Damalistik, a soundsystem champion in his own right thanks to his tireless work making and playing top class reggae and dancehall all over the world. His brace will feature the 'Babylon Time' riddim which pays homage to the Firehouse label track by King Tubby and King Kong 'Babylon'. Vocalists riding this riddim are Solo Banton, Deadly Hunta and YT with both of these releases limited to just 500 copies.
The final but by no means least release comes from Spanish rub-a-dub maestro Stalawa. This will be his first release with the label and features the DJ styling of Ponchita Peligros on a digitalized riddim. This 7" release will also be limited to just 500 pressings.
Further news on these and other release can be found at www.scotchbonnet.net.