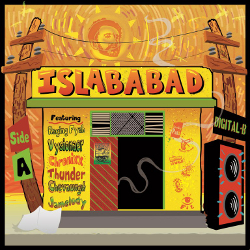 Bobby "Digital" Dixon became a name in the reggae industry in the 90s when recording a number of massive tunes for some of the greatest artists of the time, including Garnett Silk, Sizzla and Shabba Ranks.
His label Digital-B Records has been alive and kicking for close to three decades, and one of the label's most recent releases is the Islababad riddim, set to be released in two parts.
Side A introduces a raw and powerful sound that fuses a catchy guitar riff with the current roots reggae revival. Featured on the compilation are such versatile talents as Chronixx, Raging Fyah, Vysionaer and dub poet Thunder, along with a few more.
Stay tuned for side B.