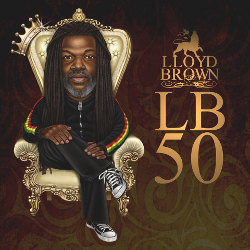 Lloyd Brown has announced the release of his 18th studio album LB50.
Issued by his own company Riddimworks Productions and Phoenix Music International, LB50 is titled in celebration of the singer-songwriter's 50th birthday which he celebrated in March. The cover art is illustrated - once again - by Jerry Neville.
It's the next instalment in an unbroken run of critically acclaimed albums – the last being 2013's Rootical with US/VI production trio Zion I Kings.
"The nineteen track album will consist of the varied content that Lloyd's fans have come to know and love, as well as some bonus content" said Lloyd via his Facebook account.
"Co-Production collaborations will feature Patrick Anthony's Homefront Productions, Lloyd Campbell's Joe Fraser Records, Mike Brooks' Teams Music, Thilo "Teka" Jacks' Rootdown Records, Mikie Blak's Audiodope and Jah David's Zion High Productions.
Vocal collaborations will feature rising DJ Danny Sprang, UK Veteran DJ Sarjant D and Lloyd's son Courtney making his commercial debut."
LB50 is out Friday 30th May 2014 for download only from digital platforms.
Lloyd Brown - Vlog [5] - "LB50" 50th Earthstrong Album