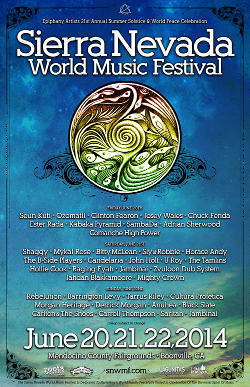 The 21st annual Sierra Nevada World Music Festival (SNWMF) takes place on June 20-22 at the Mendocino County Fairgrounds in Boonville, California, United States, located in the heart of the Anderson Valley. ´
SNWMF is a three day music, art and camping festival, and features some of the biggest names in world and reggae music, arts and food.
SNWMF has two stages, a "Jamaican-style" late night dancehall and is a family friendly festival thanks to an extensive array of children's activities, including arts and crafts, dance and music workshops, a festival parade and family and alter-able camping.
But I suppose most people visits SNWMF for the music, and this year the festival offers the usual diverse line-up, including Jamaican veterans Barrington Levy, Horace Andy, U-Roy, Michael Rose, Josey Wales and John Holt as well as newcomers such as Tarrus Riley, Kabaka Pyramid, Raging Fyah and Jahdan Blakkamoore. But this year also includes UK acts such Black Slate, Bitty McLean and Hollie Cook.
Tickets are on sale now via the festival's website.