It took 13 years for the massively under-recorded Jamaican singer Jahmali to drop his second album, third if you count the Treasure Box compilation. Responsible for the new album We I Open is Catalan label Reggaeland.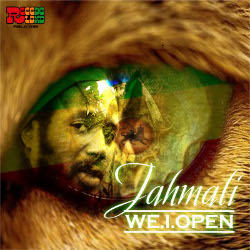 He started his career in the 90s and voiced a number of hit songs for Donovan Germain, Bobby "Digital" Dixon and Barry O'Hare. He is to date probably best known for songs such as Let Me Live and El Shaddai as well as the Buju Banton combination Mother's Cry.
Since the 90s he has kept a low profile, but made a minor come back a few years ago when he dropped Blood Thirsty on UK's Necessary Mayhem Records.
We I Open was recorded in Jamaica, Spain and California and includes twelve tracks produced by Marcus Reggaeland and written by his companion Genis "Genious" Trani along with lyrics from Jahmali.
"We I Open is a gift to the world and a personal contribution towards part of one of the only possible solutions in this spiritual struggle," says Jahmali in a press release.
We I Open drops on June 1st.