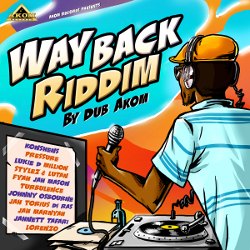 One year after Akom Records' Heartwarming riddim comes yet another scorcher from this French label and its drum and bass duo David and Faby from Dub Akom, one of Europe's most acclaimed backing bands.
Way Back riddim is fresh and modern rub a dub and the 13 track compilation brings together various artists of the current Jamaican scene, such as Konshens, Lutan Fyah, Jah Mason, Lukie D, Turbulence, Lorenzo, veteran singer Johnny Osbourne, as well as artists like Pressure from the Virgin Islands, Million Stylez representing Sweden, Jah Marnyah from the UK and Jahnett Tafari from South Africa. It also includes and up and coming Jamaican artists Jah Torius and Di Ras.
The Way Back riddim is now available on digital platforms worldwide. A 10″ vinyl release will follow later this year with two unreleased cuts.