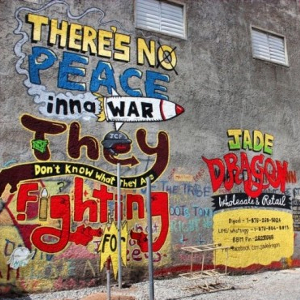 Marianna from France has initiated an art project in downtown Kingston called Paint Jamaica. The aim of the project is to change and revolutionize the relationship between art, talent and society by painting murals with a message in downtown Kingston, together with local residents.
The project uses art to fuel positive change and also wants to break misconceptions around stigmatized neighbourhoods and communities while encouraging local residents to focus on positive outlets.
Downtown Kingston has a troubled image and is often associated with violence and tension, and there are also usually prejudiced attitudes towards people living downtown. However, parts of the neighbourhood is vibrant and creative, as shown in murals of Bob Marley, Dennis Brown, Chris Gayle, Bounty Killer, Mavado and Chronixx.
Paint Jamaica is run by a freelance group of art and social interventionists with a common vision – to transform local living conditions through an artistic intervention, cultural exchange and celebration at once, thus creating a new landmark which could drive global attention and enhancing Kingston's reputation.
The project is entirely supported via crowdfunding and gracious donations and will be completed on July 18, 2014. Check www.facebook.com/paintjamaica for more information.