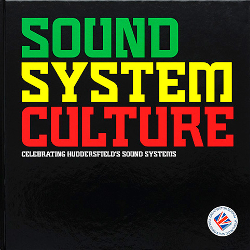 Students of reggae music history in England's major cities outside London will be aware of the contributions of Birmingham, Bristol, Leeds and Sheffield. Now, a new book shines light on the importance of Huddersfield – specifically its sound systems.
Part of Mandeep Samra's Sound System Culture project, the text was written by Paul Huxtable, selector of Axis Sound, and builder of original valve sound equipment. The hardback was designed and edited by Al Fingers, who wrote the similarly fascinating JA-to-UK story Clarks in Jamaica.
"The market town of Huddersfield, nestled within the Pennine Hills of West Yorkshire, has made a remarkable contribution to UK sound system culture. From Armagideon to Zion InnaVision, the Arawak club to Venn Street, Matamp to Valv-a-tron, this unlikely location has been a stronghold of the British scene, yet has remained largely overlooked" says Al Fingers.
Samra adds "If you came to Huddersfield now you would never think it was once home to a thriving sound system scene. I felt it was important to document the stories of the people involved and to capture some of the magic of the past before it was lost forever. Watching elders look through the book now, I see that magic coming back to them and feel happy that those stories have finally been recorded, and that Huddersfield is back on the sound system map."
Sound System Culture, Celebrating Huddersfield's Sound Systems is published on July 1st. Pre-release copies are available from One Love Books. It accompanies a touring exhibition and short film.