VP Records vintage imprint 17 North Parade opens its vaults to present another crucial reissue, this time from one of the most influential Jamaican producers – Augustus "Gussie Clarke". He has consistently churned out hits since the 70s until today, and Gussie Presenting The Right Tracks, which was originally released in 1976, captures his early work during the so called golden era of reggae.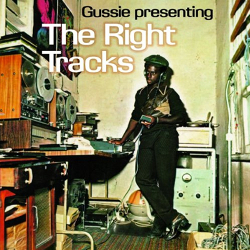 The reissue – which drops on July 22 – collects the original LP in its entirety with previously unreleased Gussie Clarke productions for the first time on CD. The double disc set will contain all re-mastered tracks along with extensive liner notes and the original LP artwork.
The cuts were originally recorded and mixed at Kingston's legendary Channel One studio and King Tubby's studio, and the collection includes Gussie Clarke's work with a parade of Jamaican greats, including Horace Andy, Leroy Sibbles, Dennis Brown, Gregory Isaacs, Delroy Wilson, Augustus Pablo, Leroy Smart and Jacob Miller.
"There's no 'how it comes about' with these names. I'm that kind of person who's always thinking outside the box. There wasn't any logic to it! It's just a love for the difference and the uniqueness of things. Everybody had a sound and a style and I'd switch the musicians round to get a different vibe and a different feel," explains Gussie Clarke in the set's liner notes, and adds:
"I had the songs and in those days compilations were a good idea. I said 'why not?' and 'The Right Tracks' is appropriate now because they are the right tracks."
In addition to this 40 track album, there will be a vinyl companion piece (carrying the same name) of eleven tracks from the CD version available the same day.
And on August 29th the label drops a limited edition 7" vinyl box set of rare Gussie Clarke productions designed to augment the two CD collection. The set, entitled Gussie Presenting The Right Sevens, features original recordings of foundation classics from Leroy Smart and The Mighty Diamonds, rare Augustus Pablo and Mikey Dread sides and previously unreleased cuts from Leroy Sibbles and Tommy McCook.
The Right Tracks series is the first installment of several Gussie Glarke collections that will drop via VP Records this year. They will also unleash a newly-compiled LP of Gussie Clarke productions with reggae icon Augustus Pablo titled Born To Dub You plus a three disc Reggae Anthology for Gussie Clarke's Music Works label slated for late 2014.