Reggae and dancehall singer and former Portmore Empire associate Jah Vinci drops his debut album Ghetto Born on July 22nd, a collaboration with Khabir Bonner of Grillaras Productions known for his recent album with Lutan Fyah, Life of a King, and the Beenie Man & Ce'Cile single Thug Love.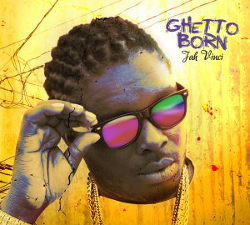 "Working with Grillaras Productions was almost instinctual, and we have worked on many projects before and they all went well, so naturally I thought to work with him again," says Jah Vinci in a press release.
The 13-track album features collaborations with legends such as Beenie Man and Junior Reid and is based on reggae, dancehall and crossover sounds, with Jah Vinci taking on societal issues as well as crime, violence and poverty, matters often surrounding Jamaican inner-city life.
"I know this one is going to be a hit! I will continue to raise the bar in music by putting out only quality work. Not only that but these songs are going to be a favourite with my fans," concludes Jah Vinci.