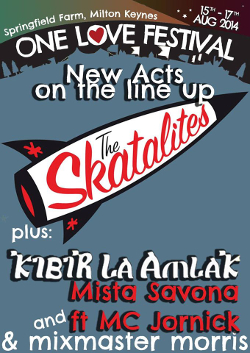 England's One Love Festival has announced a move to a new location.
Originally scheduled to take place at Stockwell Farm Leighton Buzzard, the three day event will now happen 10 minutes away at Springfield Farm in Milton Keynes.
"We have been struggling with the size of Stockwell Farm as a  venue" said the organisers in a press release. They promise the new site will offer "Increased Capacity – room for annual growth. Later Entertainment License – midnight live stage, 3.00am DJ's, for those times when you don't want it to end. One Love Festival Exclusivity – only festival at site, because One Love is the only one that matters".
The Skatalites and Australian producer Mr Savona have recently added to the lineup - joining a roster that includes John Holt, Cocoa Tea, the Wailing Souls, Cornel Campbell and Addis Pablo.
The 7th annual One Love Festival still takes place from 15th-17th August.