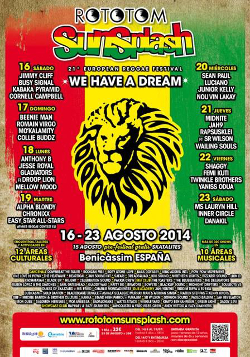 Had just turned off the lights on the stage, Damian Marley had just finished his show in front of 35000 fans from all over the world. People of Rototom Sunsplash 2014 left Main Stage to start dancing again in other locations of the festival.
Unfortunately it was last night of a wonderful event come to an end. Just the dawn gave light to the sky in Benicassim, countdown for the new edition has finally started his round clock. Were 365 days long to wait before returning to make bags for Spain.
Only one month for the new adventure, the program is almost complete and the line up is impressive as always, names such as Jimmy Cliff, Shaggy or Twinkle Brothers for an example. And then the Dub Academy, Ska Club, Dancehall Area, Reggae University, and many other activities of every day, not to mention restaurants with good flavors from around the world!
We expect another week full of emotions, such as Rototom Sunsplash gives us from 20 years. Edition number 21 is about to begin, the countdown is ending! We Are One!
Pics in the Gallery : Rototom SunSplash 2013 © Mauro Sindici