Guitar player Ciyo Brown releases his 6th album this month.
Titled "Put A Little Jazz In Their Lives" it is a mellow sophisticated fusion of jazz with reggae.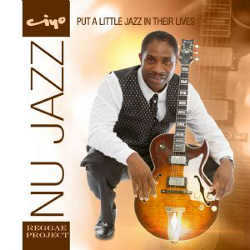 It contains renditions of Jimmy McHugh/Dorothy Fields' I'm In The Mood For Love (famously covered in ska by Lord Tanamo) and Dennis Brown's Love Has Found Its Way. Original material includes Song For Ernest, Earl and George – a tribute to Ernest Ranglin, Earl Klugh and George Benson.
"Consistently pushing the Jazz boundaries Ciyo Brown one of the UK's leading Jazz musicians presents to us the long-awaited album, "Put A Little Jazz In Their Lives" says the press release. The record "illustrates his desire to celebrate diversity by merging jazz with reggae…of course in his own unique and inimitable way!"
Ciyo has supplied fretwork to the music of Steel Pulse, Freddie McGregor, Carroll Thompson, John Holt, Janet Kay and Aswad. Outside of reggae he has worked with Courtney Pine, Annie Lennox, Roachford, and Linda Lewis.
"Put A Little Jazz In Their Lives" is out now, distributed by Cadiz Music and is available on CD and via iTunes and other digital outlets.