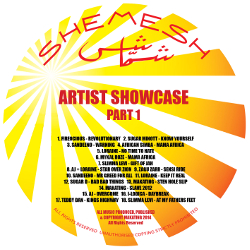 England's Shemesh Records celebrates 15 years of their productions with a two volume retrospective. Part 1 is due at the end of July.
Shemesh is run by brothers David and Daniel Norland alongside Twinkle Brothers keyboardist Aaron Shamash, with rhythms built and produced by Oxford collective Makating. Shemesh Artist Showcase collects some of the last decade and a half's highlights and unheard material.
Artists featured include Mykal Rose and Sugar Minott from Jamaica and Afrikan Simba from the UK. Mixing duties come from Nick Manasseh, Dougie Wardrop and Russ D.
"Full horn section, real pianos, organs and great original riddims are the order of the day" says the press release. This album pulls together brand new music never released before and also music which has had vinyl release but never on CD or digital"
Shemesh Artist Showcase Part 1 is out July 28th for digital download. Part 2 (containing dubs and extra vocals) will be made available for free later in the year.