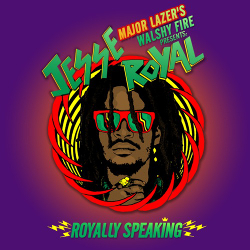 While we wait for his debut full-length album Jamaican singer Jesse Royal has joined forces with Major Lazer's Walshy Fire for a fierce mixtape titled Royally Speaking.
This is Jesse Royal's third official mixtape and his first with Walshy Fire, a DJ and producer that has previously dropped storming sets with Addis Pablo and Chronixx.
Jesse Royal is part of Jamaica's recent roots revival scene, a scene that features artists like the above-mentioned Addis Pablo and Chronixx, but also Protoje, Kelissa, Iba Mahr, Dre Island, Loyal Flames, Jah9 and Micah Shemaiah.
Royally Speaking comes with 25 tracks mixed together by Walshy Fire. It comes with original cuts, interludes, dubplates and hip-hop-flavoured remixes and is available at Soundcloud.