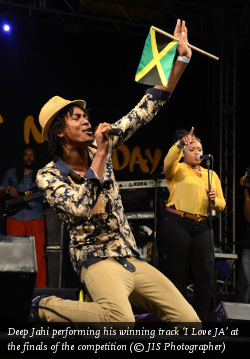 I Love JA. This is with this song that Rushane Sanderson aka Deep Jahi recently won the 2014 Jamaica Festival Song Competition in Kingston, for which he earned $500,000, a trophy, and gift baskets.

This 23-year-old talented singer, based in Kingston, is not a beginner in the music industry. He was the winner of the Jamaican TV show Magnum Kings and Queens of Dancehall in 2012. Then he has teamed with the popular producer Serani and his label 'Rockstone Media' and released several singles including a hit single, 'Life Goes On', as well as 'Nuh Punching Bag', 'Another Try', 'So Firm' and recently 'Conversation' which has been receiving heavy rotation on local radio stations. He also released a video for one of his latest singles 'Harsh Reality' where he shares his perception and point of view of the situation of his country on various levels.
About 'I Love JA' Deep Jahi explained that it was inspired by the love that people have for Jamaica all over the world. No video yet but listen to this new song that could soon become a anthem for the Island!