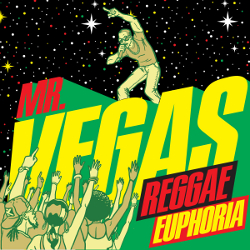 Talented dancehall deejay and label owner Mr. Vegas has been productive in recent years. In 2012 he dropped the acclaimed reggae-fused double disc Sweet Jamaica and last year he released the more dancehall-oriented Bruk it Down 2.0.
Now it's time for a new album. His sixth to date. It's called Reggae Euphoria and hits the streets on September 23.
Mr. Vegas has been in the music business for nearly 20 years and is best known for his energetic dancehall hits, but Reggae Euphoria is in a press release said to highlight a different style, just as the aforementioned Sweet Jamaica did when it came out.
The upcoming set collects 15 tracks and is expected to include a broad mix of genres. The greater portion is said to be reggae, but Mr. Vegas also ventures into dancehall, hip-hop, R&B, comedy (!) and gospel. It certainly sounds like another Sweet Jamaica.