Greenhouse is back again with two new 7" featuring Rick Wayne and Eamon Sterling on vocals. The UK label dedicated on old school digital reggae from the 80's releases for the first time on vinyl UK veteran Eamon Sterling with one exclusive tune from his collaboration with producer Ras Muffet. "Riding For A Fall" was built almost 30 years ago Greenhouse studio in Wolverhampton (UK).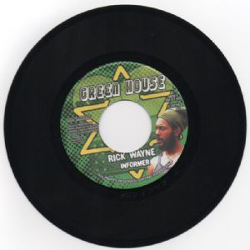 "The riddim is very representative of the style of music that was produced in the UK in the mid to late 80's , halfway between traditional JA rub a dub from the 80's and UK Dub music from the 90's , the transition period when reggae evolved towards the digital era, explained distributor Roots Ambassada. As for the lyrics, Eamon Sterling certainly got the talent - he got a perfect flow and a fine style in the line of the best UK DJs from back in the days, in England of the late 80's."
Second single is the tune "Informer" from UK singer Rick Wayne, previously released in the mid 90'son his album "Let Jah Arise", now accessible to a larger audience with the heavy dub version on the flip side ! Made in the late 80's by Ras Muffet, the version was only voiced years later by Rick Wayne later in the mid 90's. "The tune was given to sound system as exclusive dub plates and massively played by sound system like Aba Shanti among others since then " said Roots Ambassada. Both releases are out now, ready to be played Loud and Heavy !