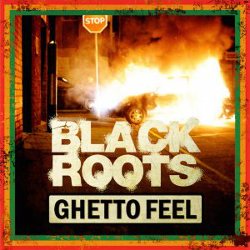 In 2011 Bristol's biggest cultural reggae band Black Roots reawakened from dormancy.
2012 saw them issue On The Ground, their critically acclaimed comeback album on Sugarshack Records - with a dub companion arriving the following year.
In a United Reggae interview, the group announced they would no longer be licensing their music through Sugar Shack. And sure enough, Black Roots second post-reformation vocal set Ghetto Feel is due for release via France's Soulbeats Records.
Like On The Ground, Ghetto Feel is co-produced by Jeff Spencer and mixed by Louis Beckett. It's a trimmer affair than its predecessor - comprising just 12 tracks this time.
But Black Roots aren't known for switching up their style - so you can expect more hard-hitting no-nonsense Rastafarian reggae and further criticism of David Cameron's coalition government.
Ghetto Feel is out September 23rd on CD, vinyl and download.