East London producer Wrongtom's last release was Mark Professor's ode to government-provided carriage, Oystah Card.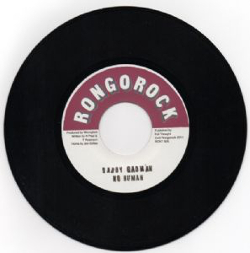 A year on, Tom's Rongorock Records is back with two new cuts featuring another skilled MC, former Jah Tubby's talker Daddy Gadman.
In contrast to the chirpy Oystah Card, No Human is a sufferers' song of sympathy for the homeless on the minor key Suzy rhythm (which appeared on the Wrongtom Meets J Deemas album).
Mic Shy is a humorous piece on the Oystah backing that tackles the surprisingly under-represented topic of a good microphone sound.
Don't be shy - No Human/Mic Shy is out Sep 1st on 7" and for download.