U.S. reggae producer and mixing engineer Tom Chasteen has via his Dub Club project recently released his first one riddim album, where multiple of mostly veteran artists have brought their own flavour to a dubby and dark instrumental. Artists include Josey Wales, Tippa Irie, Trinity, Tippa Lee, Blackout JA, Ranking Joe and Cornell Campbell.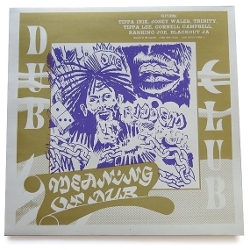 "UK legend Tippa Irie leads off with the title cut, name checking some dub warriors like Jah Shaka and Lee Perry in the process. Jamaican sound system veterans Trinity, Josey Wales, and Tippa Lee bring some rasta vibes on their respective turns, as the musical track is flipped a little different each time," explains Tom Chasteen in a press release, and continues:
"Golden voiced singer Cornell Campbell starts side two with a message to all, followed by up and comer Blackout JA and his paean to Dancehall Everlasting. Up next is possibly the stand-out cut out on the record, transforming the deeply swinging instrumental into a percussive runaway train. Finally Ranking Joe adds his two cents to Cornell Campbell's words of wisdom. We conclude with a clean instrumental for DJs and MCs to make their own."
Meaning of Dub is yet another fine addition to Stones Throw Records' growing reggae catalogue.