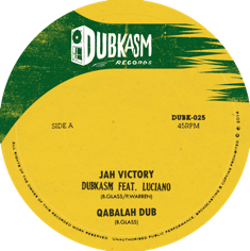 Luciano's offering has been a fixture on dub plate at Aba Shanti dances in the UK for around a year, and give thanks it will be finally widely available on 12 inch vinyl the 3rd of December.
The instrumental 'Victory', originally by Bristol's Dubkasm, returns to the UK from Jamaica, voiced by Luciano in classic roots fashion over powerful bass and sprightly horns, the percussion coming more to the fore on the mighty dub.
Turbulence takes the lead on the flip, a ferocious roots dee-jay performance leading into another classic deep dub. One to shake the speakers!