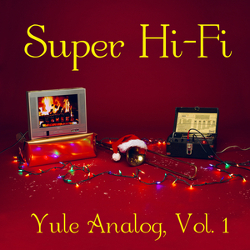 Super Hi-Fi's second album Yule Analog Vol. 1 is a dubbed out Christmas excursion where the Brooklyn-based five piece band makes dub and reggae versions of classic Christmas songs. It boasts analog tape delays and echoing trombones.
"As soon as I started digging into these songs I realized that while we've all maybe heard them too much in our lives, they're all beautiful melodies. So I really got into writing arrangements that brought something new out of them while being respectful at the same time," says bassist and bandleader Ezra Gale in a press release.
The set includes ten tracks, for example Little Drummer Boy and We Three Kings, and is now available on CD and digital download.