Jamaican jazzy veteran singer Kiddus I follows up on his latest album Topsy Turvy World released in 2013. His brand new set Take a Trip was recorded together with France's The Homegrown Band.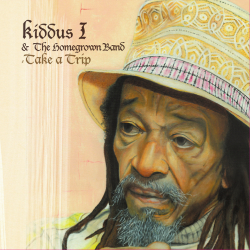 The album was actually finalized in 2009, but was rejected by a few labels and shelved. Until now when Iroko Records has decided to release it.
The genesis of the set dates however back even longer. In 2005 The Homegrown Band backed Kiddus I on several tour dates in France and that eventually led to the recording of Take a Trip, a set collecting eleven roots tracks complete with live instrumentation recorded in the old fashioned way; musicians playing together in one room and select overdubs thereafter.
On the album Kiddus I delves into unknown territory when he tackles Edith Piaf's L'Hymne A L'Amour and the Casablanca movie theme As Time Goes By, both in a roots reggae style and fashion.
The set comes with liner notes by David Katz, author of People Funny Boy: The Genius of Lee "Scratch" Perry and Solid Foundation: An Oral History of Reggae, and will be available on February 2.