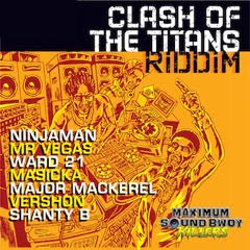 UK-based super producer Frenchie has teamed up with no other than the legendary King Jammy for a new scorching riddim titled Clash of the Titans, set for release on February 16.
This riddim is in the same blazing vein as the mighty Tin Mackerel riddim, released in 2013 with monster tunes like Konshens & Romain Virgo's We No Worry Bout Them, Mr. Vegas & Natel & Major Mackerel's Flash Up Unu Lighta and Tony Curtis' Number One Sound.
Clash of the Titans is voiced by seven different artists – Ninjaman, Mr. Vegas, Ward 21, Major Mackerel, Shanty B, Vershon and Masicka – and comes with nine cuts, of which two are from Vershon and one is an instrumental.
More than a few sound bwoys were slayed by the Tin Mackerel riddim and with this one another dozen or two will face the same cruel fate.