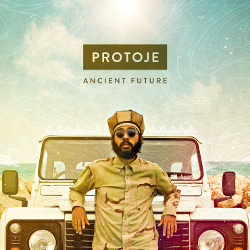 Protoje will be releasing his third studio album Ancient Future on March 10. The set is a collaborative effort between Phillip "Winta" James of Overstand Entertainment and Protoje's Indiggnation Collective.
Phillip James has tailor-made a sound for Protoje's style of lyrical delivery and their chemistry in the studio has apparently been fruitful. Just listen to the first two tracks revealed from the album – the Chronixx combination Who Knows and Stylin'.

"When I write lyrics and get to hear them it's almost like looking in a mirror. I try to be honest to what I was feeling in my chest and speak it to get the chance to reflect and learn from it. The music on this album allowed me the freedom to do so. Working with Winta has really made me into a better artist in that having observed me as an artist over the years he was able to evaluate my strength and weaknesses," explains Protoje in a press release.
On Ancient Future Protoje will stay true to his reggae rooys, but the set is also said to blur the line between reggae and hip-hop.
Two tracks feature new comer Sevana, an Indiggnation Collective Artist, whose delivery is above par, as shown on Bit Too Shy, released last year.