Guyanese born, Brooklyn-raised and Grammy-nominated singay, rapper and songwriter Jahdan Blakkamoore finally follows up on his massive 2010-released album Babylon Nightmare.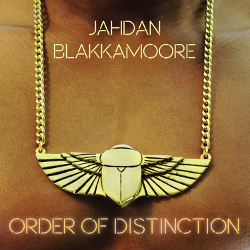 Order of Distinction – set for release on March 24 – is his third album and features mainly production by Zion I Kings and Paper Stars. Zion I Kings is widely known for several powerful releases, including Midnite's Beauty for Ashes, which was awarded iTunes album of the year 2014, while Papers Stars is the production and writing duo forged between Jahdan Blakkamoore and Andrew "Moon" Bain, who is also part of Zion I Kings. Other producers include electro dancehall maestro Dre Skull and electro producer Nate Mars.
On Order of Distinction the team has invited a strong roster of contemporaries, including Lutan Fyah, Pressure Busspipe and Kabaka Pyramid. And the set offers a mix of high-energy ragga hip-hop, sexy lovers rock and modern roots.
According to a press release the set pushes the envelope of the genre, introducing fresh faces amongst familiar ones while remaining rooted in a foundation of innovative musicianship and forward thinking production that resounds with positive and evocative messages. Ting Tun Up! featuring Lady Leshurr and Melodic Yoza is the first single off the album.