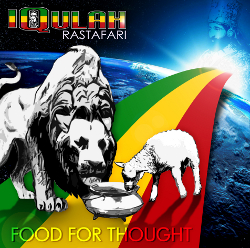 Jamaican born singer IQulah Rastafari dropped his debut album about 30 years ago and has now released his latest spiritual roots reggae set Food for Thought.
The foundation for the album was laid in London, UK, with the assistance of producer Paget King. Additional instrumentation was added by a number of handpicked musicians from Jamaica, South Africa, UK and the U.S.
Food for Thought is IQulah Rastafari's sixth album and it is now available as digital download as well as CD from IQulah Rastafari's website along with selected retailers across the UK, Africa, Europe and the U.S.