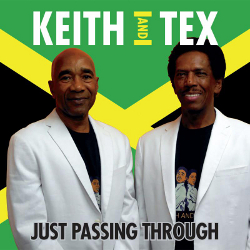 Veteran Jamaican harmony duo Keith & Tex are back with a new album following their Redux set released in 2013.
The duo is probably best known for their slow and haunting rocksteady masterpiece Stop That Train, a cut that has been versioned several times since it was released in the late 60s.
On Just Passing Through they have collaborated with musicians from the UK, France, Israel, California and Hawaii. It collects 17 tracks and is packed with classic rocksteady harmonizing that the duo is known for.