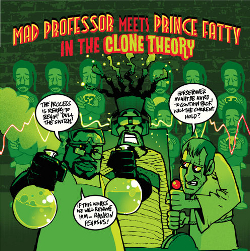 Two of the UK's top reggae producers Mad Professor and Prince Fatty, who both share a mutual love of all things analog, old tape machines and 70s soul music, have joined forces to deliver a tour-de-force of rich and full sounding dubwise reggae "The Clone Theory".
According to Prince Fatty: "the album is laboratory grade analog dubs from the past and present cloned into the digital era for 2015 and showcase the dubs we play on the road with our studio equipment. Lights low, no MCs and no pull ups...Dub as it should heard." And I for one couldn't agree more.
The album is available now from the likes of Amazon, itunes and other outlets.