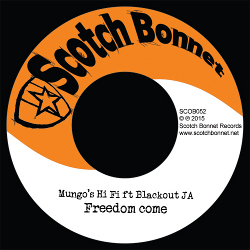 For all you vinyl lovers out there Mungo's Hi Fi are once again releasing two 7s which will be strictly limited to just 500 copies.
The first hears Mr Williamz 'Give Thanks to Jah' on 'G20' a bass busting digital riddim, while the second features the gravely tones of Blackout JA riding the Axel F inspired 'Imitators' riddim on 'Freedom Come'.
Both feature versions on the flip side and are available now from scotchbonnet.net at just £5 including p&p.