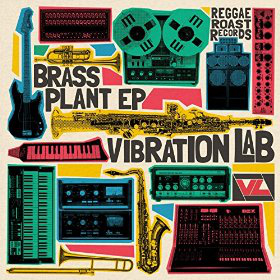 UK future dub veterans Vibration Lab are due to release their debut EP 'The Brass Plant EP' on the Reggae Roast imprint on April 27th
The 5 tracks on this EP all carry the same vibe for late nights and sunny chilled out days with its smooth, easy going and heavy sound that has one foot set in the roots reggae tradition of yesteryear while the other embraces modern bass music production techniques.
Vibration Lab have already made large inroads on the scene, working with the likes of Jamaican legend Linval Thompson as well as remixing artists such as Roommate, Rod Taylor, Charlie P, Prince Alla and many more. With this and a string of further releases already in the pipeline to be showcased on Reggae Roast and Moonshine Records out of Poland, Vibration Lab look set to continue to explore their production diversity and their ability to keep pushing musical boundaries exemplifying the ever evolving nature of reggae.