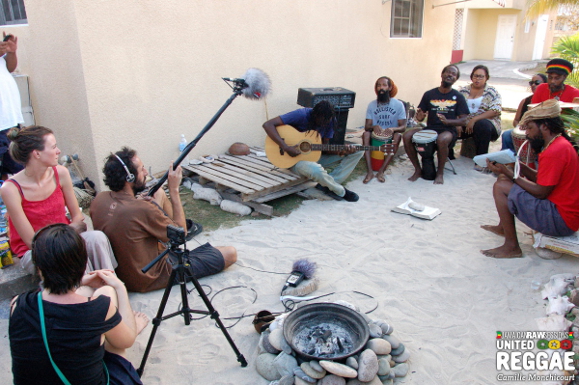 In February this year a team from United Reggae spent three days in Kingston, Jamaica, and the city's surrounding area. The team drove around and visited places and studio yards bringing a microphone and camera.
The result is Jamaican Raw Sessions where reggae superstars and rising hopefuls sing songs in the studio yards. The artists - including Max Romeo, Derajah, The Viceroys, Kabaka Pyramid and The Uprising Roots - are accompanied only by unplugged guitar and the occasional drums.
"We met the artists in the studio yards and they performed right there and then. We switched on the camera and the microphone and recorded what happened next," says Camille Monchicourt, United Reggae's General Manager and part of the team visiting Jamaica.
The team visited studios like Charmax Music, Penthouse, Dubtonic Kru and Caveman International and the first part of Jamaican Raw Sessions includes a beautiful performance from Max Romeo where he sings classics like War Ina Babylon and Chase the Devil. Kabaka Pyramid, who is currently enjoying success with his Damian Marley-produced anti-establishment cut Well Done, performs this song and Never Gonna Be a Slave accompanied by two guitar players from his band Bebble Rockers.
All videos are now available on http://jamaicanrawsessions.unitedreggae.com.
Stay tuned for more, including raw performances by Anthony B, Jah9, Ratigan and Wild Life.
List of 14 first videos videos included in Jamaican Raw Sessions:
Max Romeo - Macabee Version / War Ina Babylon / Give Peace A Chance
Max Romeo - Chase The Devil (acoustic)
Rominal - Truce (acoustic)
Xana Romeo - Righteous Path (acoustic)
The Viceroys - Ya Ho (acoustic)
Isha Bel - African Woman / They Should Know (acoustic)
Junie Platinum - King Majesty / Equal Rights (acoustic)
The Uprising Roots - Black To I Roots (acoustic)
The Uprising Roots - Trenchtown / Time (acoustic)
Derajah - Who Yeah Yah (acoustic)
Derajah - Most High / Slow Mo (acoustic)
Derajah - Herbs (acoustic)
Kabaka Pyramid - Never Gonna Be A Slave / Well Done (acoustic)
Bryan Art - Knowledge Is The Power / Get It (acoustic)
During this time United Reggae writer Angus Taylor and photographer Veronique Skelsey were moving from yard to yard in Kingston to meet many artists and talk with them about their history and the real situation of reggae music. Read their interviews of Protoje, Jah9, Horace Andy, Ken Boothe, Kabaka Pyramid, Mark Wonder, Derajah, Anthony Senior and Nakeisha.