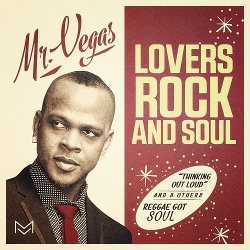 The new album from dancehall superstar Mr. Vegas is titled Lovers Rock and Soul and collects nine covers of classic songs in the reggae and R&B vein. It's slated for release on October 9th.
On the album Mr. Vegas' takes on The Techniques' rocksteady classic Queen Majesty, Alton Ellis' Girl I've Got a Date and Howard Hewett's Say Amen.
Lovers Rock and Soul is co-produced by Vegas himself along with veteran producer Cleveland "Clevie" Browne, who produced Mr. Vegas and Sean Paul's smash hit Hot Gal Today in 1999.
This album is Mr. Vegas' second album of mainly covers and follows the Sweet Jamaica double disc which dropped in 2012.