Jamaican singer, songwriter and guitarist Kingly T, who was previously member of the band Ninja Force, has recently dropped his fourth album Life in the City, a set described as classic reggae with influences from soul and jazz.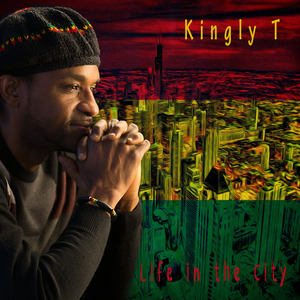 "I've never liked to follow trends. It's much better to set my own, there's no need to follow others. I've established my sound, and I'm happy with myself," explains Kingly T in a press release, and adds:
"I like honor, respect, something to encourage people. I wanted to write words that will stay in the mind and help people improve their lives. I write about everyday life in the system we all experience, how it really is, and how we can all make it better."
He takes his inspiration from reggae greats such as The Wailers and Third World and during his childhood reggae filled the air.
"My father loved to play. He was a great musician, good on the banjo, guitar – he even played the bamboo flute! He'd get all of us together in the evening, we'd each pick up an instrument and we'd have jam sessions. That's how I first came to love music," recalls Kingly T.
Kingly T has been writing music for many years and with Life in the City he decided to revisit some of his older songs, as well as new ones. Eastward Bound, for instance, first appeared as a single, making waves in 2013, and the cut included on Life in the City is a fresh version. Baby I Want you dates back even further – it was the first song he ever wrote.
"This is what I do. It's from the way I was raised, what my parents showed me. If the songs of Life in the City can give people some hope or a little inspiration when they feel down, then I've done something good," concludes Kingly T.