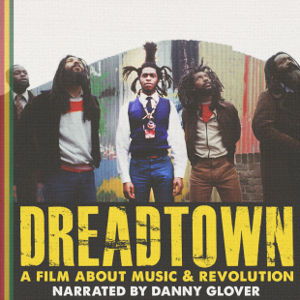 Film director Yoni Gal and Oscar-nominated producer Mike Lerner has recently launched a crowd-funding campaign via Indiegogo to raise completion funds for their feature documentary on legendary UK reggae band Steel Pulse.
Dreadtown is due for release at the end of 2016 and tells the story of Steel Pulse, a band that emerged from the racial turbulence of 70s Britain. The documentary has been in the making for several years and is promised to be a significant document in the development of reggae music as well as an eye-opener on socio-political issues that continue to resonate in the U.S. and beyond.
"I can trace the beginning of Dreadtown back to my upbringing in the Caribbean. As a teenager I found my political voice thanks to bands like Steel Pulse. Like Bob Marley before them I realised that the greatest music could also convey a powerful, social and political message. The band educated me on subjects I was not being taught at school", explains Yoni Gal in a press release.
The film is roughly divided into two parts. The first half explores the British context to Steel Pulse's influence on reggae music. Coming from Handsworth in Birmingham/England, Steel Pulse witnessed the hard edge of British working-class life during the 1970's, a time of political upheaval and racial tension. With songs like Handsworth Revolution and Ku Klux Klan they looked to music to confront the exploitation and violence faced by the Caribbean and Indian migrant communities in the UK.
The second part explores how Steel Pulse related to their audience in U.S. They climbed the ladder of obscurity in the U.S. through the 80s and by 1993 they were playing at the inaugural festivities in Washington D.C., at the personal request of an unlikely fan, President Bill Clinton.
"Dreadtown has been a true eye opener for us during its development and a real adventure as the story unfolds from the mouths of those who we've inspired and those who have inspired us throughout our 40 year career," says David Hinds from Steel Pulse. Dreadtown will feature interviews with artists and champions such as Snoop Dogg, Rita Marley, Simpsons creator Matt Groening, World Heavyweight Boxing Champion Lennox Lewis, Alpha Blondy, Burning Spear, Chad Smith from Red Hot Chili Peppers, Island Records founder Chris Blackwell and Gwen Stefani along with many more. The film is narrated by renowned Hollywood actor and social activist Danny Glover.
Learn more over at the Dreadtown crowd-funding campaign website.